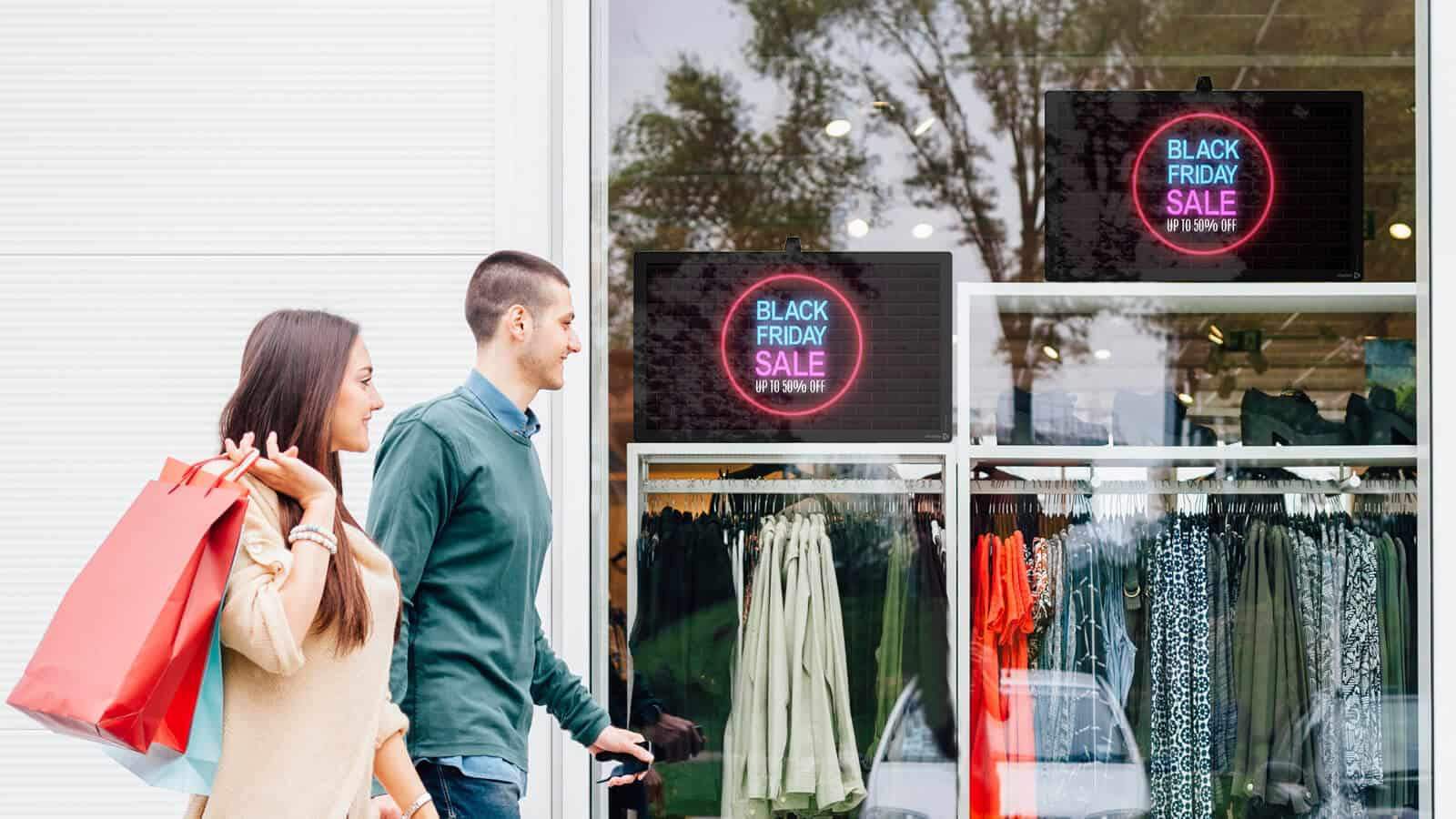 Black Friday—one of the most competitive days of the year for businesses—is almost here.  At this fiercely competitive time of year, retailers are all looking for the best ways to boost their profits and brand awareness amidst the shopping frenzy.
Have you considered using digital signage for your Black Friday promotions? Nixplay Signage might just be exactly what you need in order to stand out from the competition and seal some crucial deals on Black Friday.
Digital Signage Gets Customers Through the Door
As mentioned in one of our previous blogs, retail stores can use digital signage "welcome signs" to help attract customers into their store. For example, you could easily place a Nixplay Signage display prominently in your window, featuring a rolling slideshow of all your best Black Friday deals. This makes it more likely that your promotions will pique someone's interest as they walk by, enticing them to enter your premises and peruse your stock.
Digital Signage is More Eye-Catching
When it's Black Friday, you're competing fiercely for the attention of customers who probably have a lot of choices available to them. Your campaigns for Black Friday should be more striking and eye-catching than the printed posters and other promotional materials created during the rest of the year.  Nixplay Signage displays are bright and easily customizable, naturally attracting the most eyeballs.
Digital Signage Helps with Long Lines
You'll probably experience a lot of long lines in your store on Black Friday. This runs the risk of irritating bored customers, who might decide to abandon their planned purchases. However, a study from Lavi Industries found that digital signage reduces perceived waiting times by up to 35%. This can help keep your customers entertained while waiting in line, leading to better customer experiences and enhanced loyalty. Digital signage for Black Friday lines is essential if you think that your customers may become irritable when subjected to long lines.
Digital Signage Increases Your Appeal
If you're trying to give your company a modern and up-to-date vibe, digital signage is a brilliant way to do it. This is especially true for retailers selling technology products such as TVs and gaming consoles, which are often subjected to Black Friday deals. Appealing to your target market is an essential aspect of retail on any day, and Black Friday promotions shouldn't be any different!
Are you looking to boost your Black Friday profits with digital signage this year? Nixplay Signage offers a digital signage solution that can be used right out of the box. Get in touch with a member of the dedicated Nixplay team today to find out more. For international inquiries, contact us here.