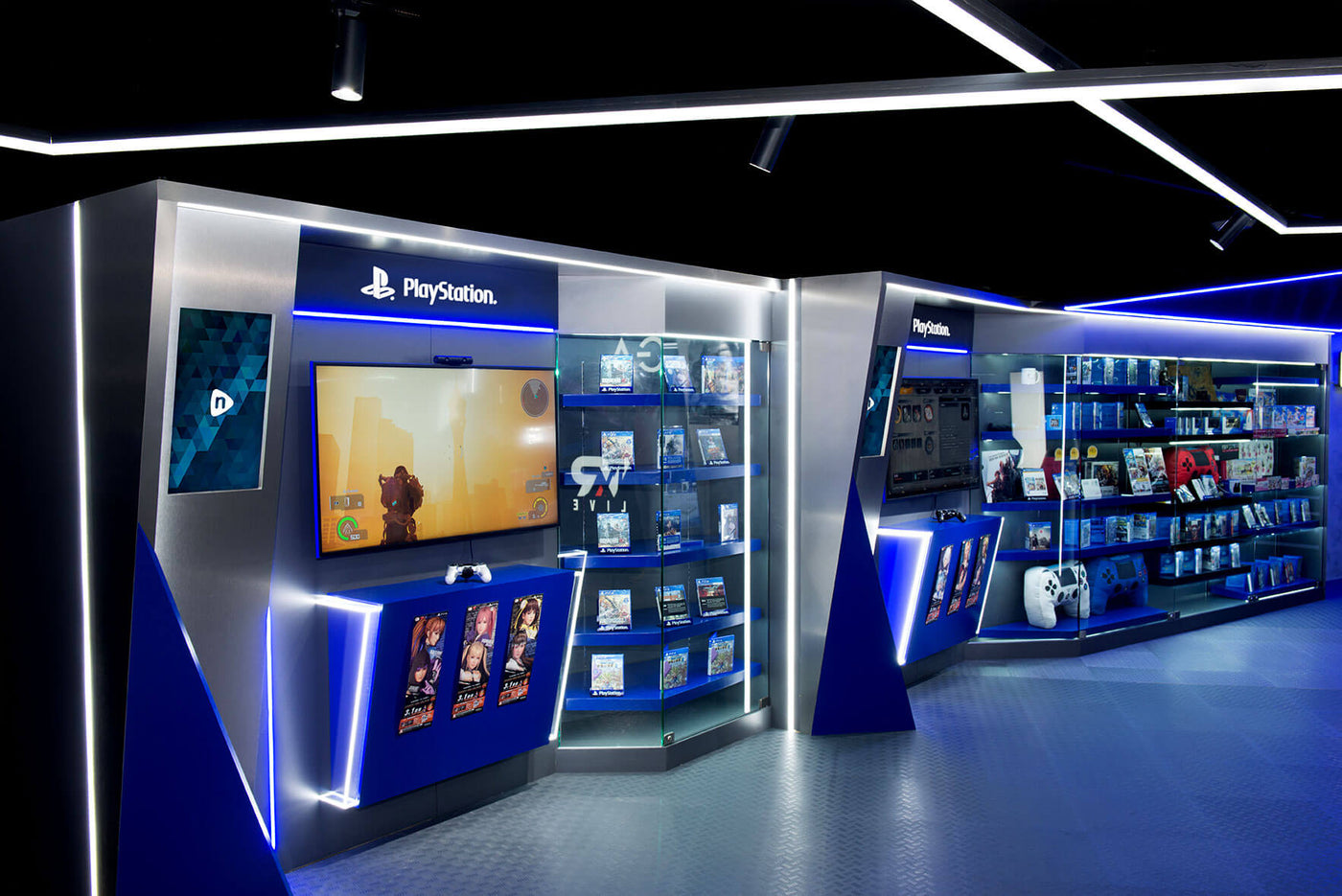 Digital Signage for Retail
Display your latest promotions, capture your customers' attention, and deliver an enhanced shopping experience
Feature Your Latest Brands, Products, or Sales
Use Nixplay Signage to introduce shoppers to your latest products and offers, announce seasonal promotions, and drive customer interest. Our integrated software and hardware solution lets you easily update your display with your latest promotions and advertise them precisely according to schedule.
Nixplay Signage also gives you a creative way to tell shoppers about your store's history, bestselling products, return or exchange policies, and in-store services. Digital in-store signage likewise allows the store to recognize and feature shoppers that have shared content or positive reviews using your store's hashtag, driving social engagement.
Provide Directions, Enhance the In-Store Experience
Remember that your shoppers come to your store because of your unique products, services, and in-store experience. Use digital signage to let shoppers know where their preferred brands or products are, guide them to cashier locations, and direct them to restrooms, customer service counters, or exits. Improve the customer experience by making sure shoppers can easily find what they are looking for, saving your store associate time to focus on other store and customer needs.
You can also use Nixplay Signage to schedule eye-catching videos, images, and store updates at the right days, the best times, and at appropriate store locations, enhancing the shopping experience and keeping the customers updated about the latest trends and available products. Show shoppers what your store and your associates have to offer and stand out from the rest of the competition.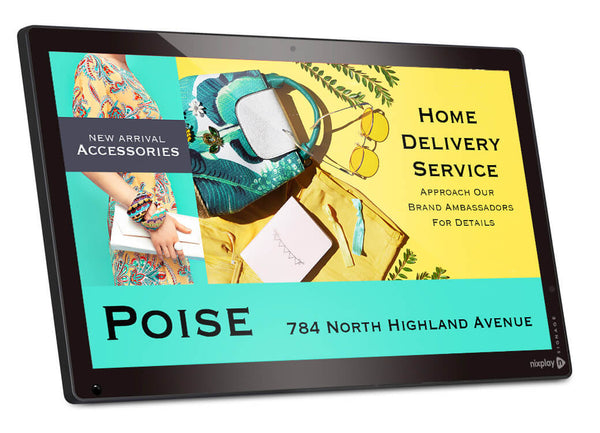 Advertise Your Services, Sponsors, and Partners
Promote your store's newest products, sales, and exclusive offers using Nixplay Signage. Easily schedule your promotional content with our display's integrated software and hardware, and be sure to include appealing images or videos of your products or services to get customers interested in your offers. Use your digital signage to also feature shoppers that have shared content using your store's hashtag.
Your Nixplay Signage display can also double as an advertising channel for your partners and related sponsors. Sell advertising space across selected displays, then promote them to shoppers at the right place and at the right time.
Promote Store Values, Inform Stakeholders
Use digital signage to share your brand values with your associates and customers to better engage with them. You could share profiles, photos, and information about your associates, your store and brand story, and your community involvement initiatives. This will allow customers to learn about your store's legacy, how you contribute to the community, and what sets you apart from others. You can also share your associates' personal product recommendations and their reasons for their picks.
At the same time, you can use digital signage to congratulate your associate of the month, let people know who the manager-on-duty is, display staff schedules to help with shift deployment, broadcast inventory alerts for internal store planning, and show performance figures to guide stakeholders towards the right direction and find opportunities to grow.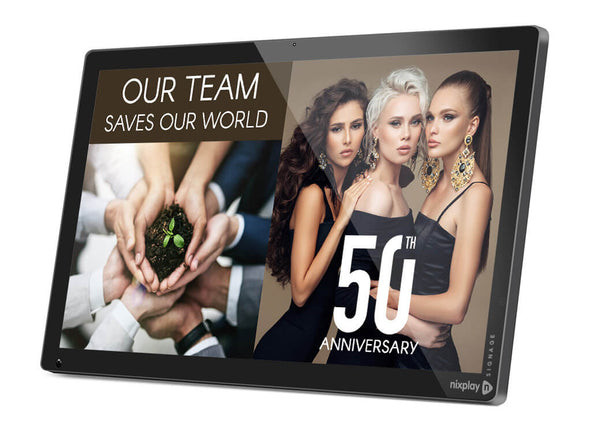 A Selection of Our Retail Clients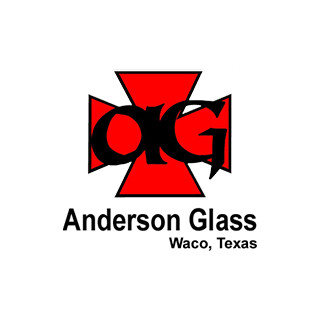 How it Works
OUT OF THE BOX
Our integrated digital signage solution combines both hardware and software to deploy digital display campaigns from anywhere at any time.
REMOTE SCHEDULING
Nixplay Signage's remote scheduling feature lets you easily manage, schedule, and update campaigns on multiple displays from your desktop or mobile devices.
EASE OF USE
Our content management system's intuitive drag-and-drop interface simplifies campaign creation, scheduling, and publishing.
SCALABLE
Manage digital signage products ranging from a few displays at one location to multiple displays and players across the globe using our content management system.
Shop Now
Client Testimonial: Sony PlayStation
Client Testimonial: Anderson Glass
Client Testimonial Courtyard Elegance