Senior Assisted Living/Residences
Digital displays to drive connection and contact
Digital Displays for Senior Assisted Living Residences
Drive connection, contact and a better experience for all.
Greet Visitors and Set Expectations
Digital signage can show the best that your team and your facilities can offer to families and future residents. Aside from greeting visitors, digital signage displays can also give them a virtual tour of what your facilities can offer, play video testimonials of satisfied residents and families, and show photos and videos of residents enjoying different activities. 
A positive first impression of your facilities will assure families that you are the right choice for their elderly loved ones, and help your company stand out from the competition.
Provide Wayfinding and Building Directories
Assisted living facilities are increasingly turning to digital signage, strategically placing digital maps and directories to guide residents to their destinations. This reduces risk while empowering residents to explore their surroundings. 
A signage display system with integrated software also allows digital maps and directories to be easily updated should any changes be made.
Improve Caregiver Effectiveness
With digital signage, facilities can easily convey their goals and internal news across teams in different locations. This reduces the need for additional paperwork and cuts down errors involving staff scheduling, cleaning services, company status, or even medication dosage.
Display Latest Community News, Updates
Turn your facility's digital displays into community boards that feature upcoming functions and photos or videos of past events such as bingo games, craft meets, card clubs, day trips, or group vacations. 
Digital signage can also be used to wish resident celebrants a happy birthday, making their day more special.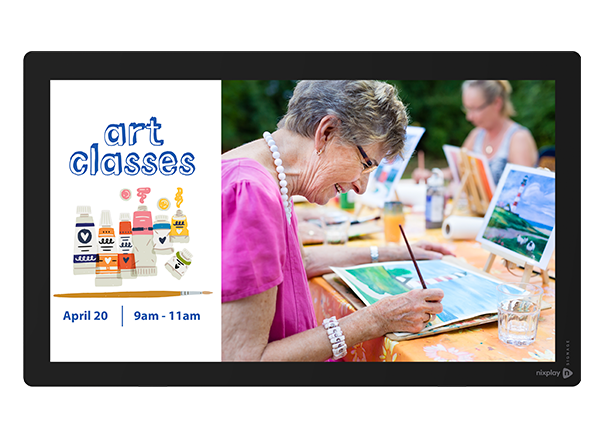 As Digital Menu Boards
Facilities can now feature a wide variety of food and drinks by using signage as digital menu boards, which can easily be updated with menus, prices, specials, and other promotions. 
These displays can be installed around the cafeteria and near the entrance, letting residents see the latest menu or daily specials. 
The digital menu boards can also include nutritional information to encourage residents to make healthier choices.
Advertise Compelling Partner Offers
Digital displays also double as advertising space for partners to offer relevant content. Depending on their location, these can help promote travel packages, religious services, counseling services, entertainment, movies, health foods, local charities, and other products and services that might be of interest to the facility's residents and staff.
Ready to Change How You Engage Patients?