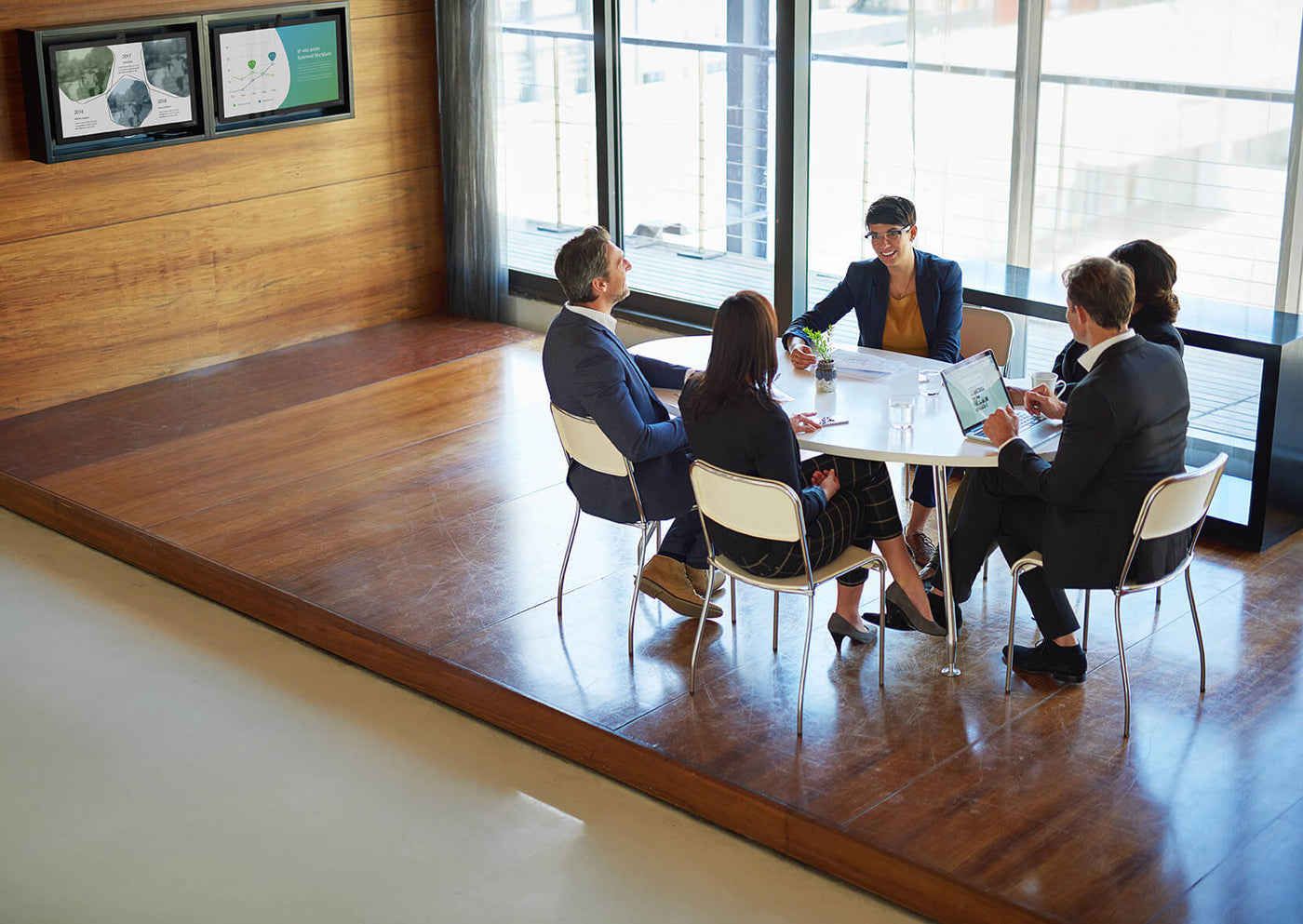 Smarter Digital Signage for Your Office
Enable scalable, real-time, efficient corporate communications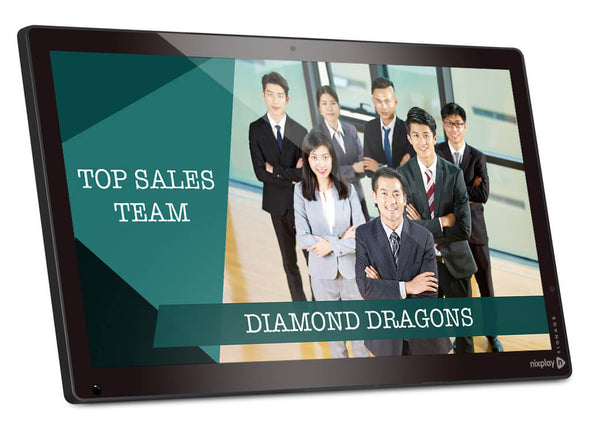 Effectively Engage and Motivate Your Office
Nixplay Signage makes corporate communications easier by ensuring your message reaches your offices at the right place and the right time. Use it to recognize exceptional colleagues, celebrate milestones, or communicate company news. Keep your offices engaged by showing relevant pre-scheduled content, and keep them informed when there's breaking news by uploading content in real time.
Nixplay Signage's cloud-based content management system allows you to easily manage multiple displays in different locations. This unique feature improves coordination among different departments, keeps everyone updated regarding the lastest performance figures, makes the introduction of new hires easier, and displays relevant information to help all stakeholders better plan and focus on their goals. Nixplay signage can also help you engage and motivate your office by informing the staff about vacation days, announcing product or service launches, and recognizing high-performing employees.
Provide Directions for Meetings, Departments, and Facilities
Use Nixplay Signage to display floor plans, meeting room locations, and directions to guide visitors and employees alike. This saves time and improves office productivity by ensuring colleagues can easily find their meeting rooms and visitors do not get lost while touring your office.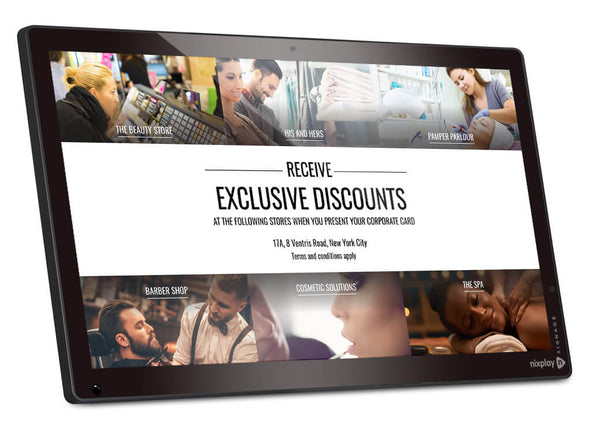 Promote Your Solutions and Advertise Partner Companies
Promote your company's latest innovations and exclusive offers using Nixplay Signage. Create appealing content to advertise your company and schedule it to be displayed around your office's reception and hallways to engage employees and greet visitors. Use Nixplay Signage to feature customers or employees who are using your company's solutions.
Nixplay Signage can also be used to promote eye-catching content from your sponsors or partners. Display their advertisements during peak hours at strategic locations around your office to maximize engagement from employees or visitors. You can also offer partner brands advertising space across selected displays, giving your company a new stream of income.
Share Company Values and Inform Stakeholders
Use Nixplay Signage to inform colleagues and visitors about your company's values, effectively engaging them. You can show videos that profile your long-time colleagues and top executives, highlight corporate social responsibility initiatives, and showcase your company history. These give stakeholders a better look at the company and emphasize what sets your company apart from others.
At the same time, you can use Nixplay Signage to showcase exclusive company content and important announcements. You can use it to share examples of colleagues applying company values in their work and lifestyle to improve productivity and personal well-being.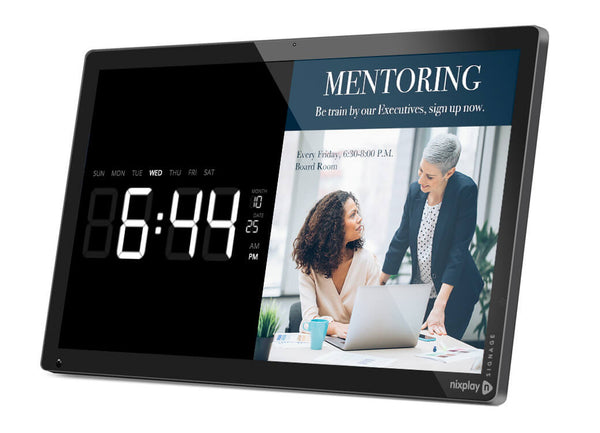 A Selection of Our Enterprise Clients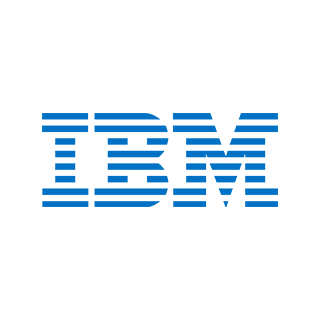 How it Works
OUT OF THE BOX
Our integrated digital signage solution combines both hardware and software to deploy digital display campaigns from anywhere at any time.
REMOTE SCHEDULING
Nixplay Signage's remote scheduling feature lets you easily manage, schedule, and update campaigns on multiple displays from your desktop or mobile devices.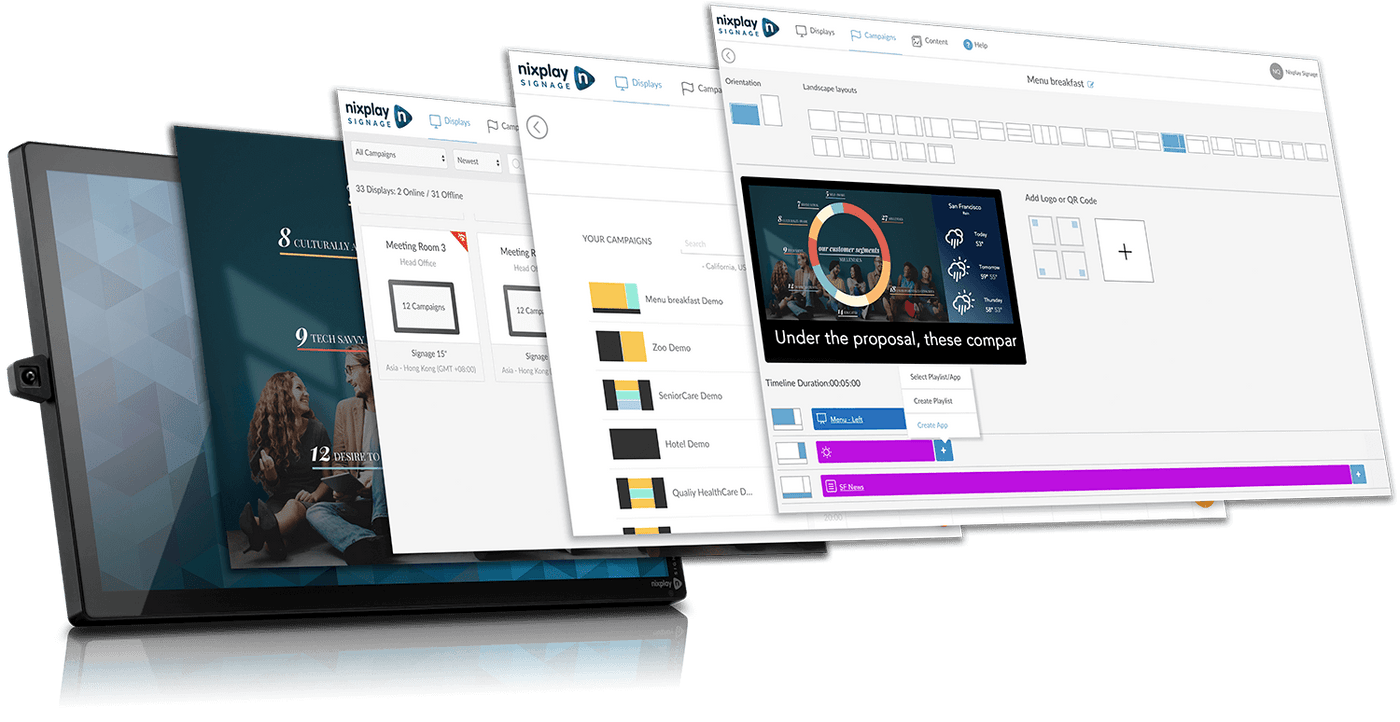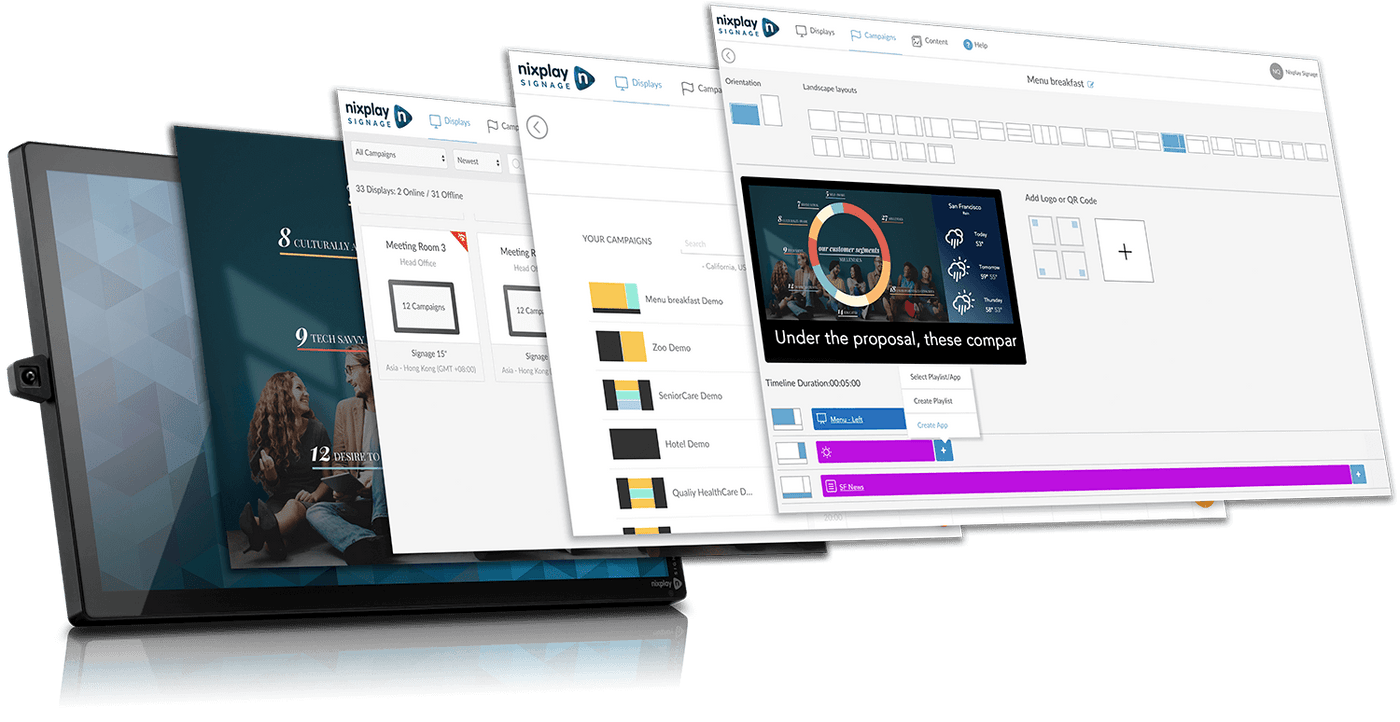 EASE OF USE
Our content management system's intuitive drag-and-drop interface simplifies campaign creation, scheduling, and publishing.
SCALABLE
Manage digital signage products ranging from a few displays at one location to multiple displays and players across the globe using our content management system.
Shop Now